With a dry cleaner on almost every corner you may think that it doesn't matter to whom you trust your garment care. IT DOES! We're the best… let us prove it to you!
( Fluff & Fold) Give us your laundry, we'll return them back fresh & clean… just put them in your dresser and you're done!
Special fluids and solvents are used in a dry cleaning machine to remove soil and stains from fabric. It is called "dry cleaning" because the fluid contains little or no water and does not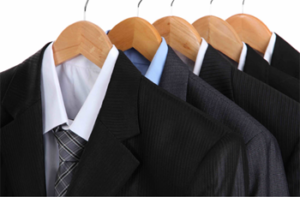 penetrate the fibers in the way water does. Advantages include the ability to dissolve greases and oils in a way that soap and water cannot. Natural fibers, such as wool, dry clean beautifully, but when washed in water, can shrink and distort. Silks are generally more color and finish stable when dry cleaned, although one must be very knowledgeable to properly spot clean these garments. Synthetic fibers such as polyester also respond well to dry cleaning, as oily spots will come out easily. Proper dry cleaning helps to return your garments to a 'like-new' condition.
Professional dry cleaning involves many different operations, all performed by skilled people, and designed to give your garments a fresh, clean appearance. Our staff are highly trained in their area of expertise to properly identify, clean and/or finish all garments, and to exercise a number of special procedures when handling your items.
You've spent a lot of time and money discovering the most unique clothes. It's a relief to find a dry cleaner who cherishes high end fashion as much as you do. At GreenAcres Dryclean, garment cleaning is a never one size fits all situation. Each fabric is unique and demands its own cleaning method.
Whether you need someone to care for your latest Prada dress or Burberry suit, or if your workaday chic just needs a little boost, you can count on us to deliver your clothes- spotless, perfectly pressed and without any shine- straight to your door.